I love browsing through Etsy to find cool, handmade things and support creative people and small brands rather than big corporations. A few months ago, I found out about jewellery made out of concrete. I didn't know that was a "thing" unitl Lilly, a former blogger, announced her little side business on her instagram – an etsy shop selling concrete pendant necklaces. And you know how it is on sites like Etsy – once you discover one shop – you go from one to the other. So here are the coolest shops and designs made out of concrete!
Concrete Adventures
Lilly is from Munich, Germany and has an amazing Instagram account and now also an amazing Etsy shop. She mainly sells concrete pendant necklaces. I actually bought the light blue necklace you can see below. I'm extremely happy with it & wear it a lot.
Etsy Shop: Concrete Adventures
BAZKBERLIN
The pieces on BAZKBERLIN are very architectural. They sell necklaces, bracelets, rings and earrings. The price range is a bit higher but probably worth it – just look at the amazing designs!
Etsy Shop: BAZKBERLIN
FAIBLEdesign
My favourite pieces from FAIBLEdesign are the in metallic colour dipped diamond pendants. They also sell jewellery made out of wooden beads and pendants as well as home decor such as candle holders, pots and vases.
Etsy Shop: FAIBLEdesign
NaussiePieces
NaussiePieces mixes concrete with other materials such as cork, leather and gemstones. The neckleces are super casual but very pretty. She also sells bracelets and fimo necklaces.
Etsy Shop: Naussie Pieces
The Concrete Jam
TheConcreteJam offers necklaces, stud earings and brooches – all made out of, of course, concrete – some were left natural, others dipped in gold.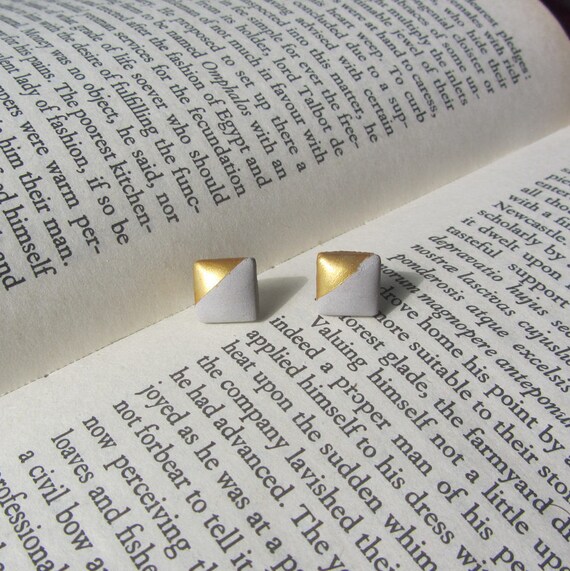 Etsy Shop: The Concrete Jam
*All shops mentioned in this post are from Europe, simply because I usually only order from european shops on etsy (because I don't have to pay for customs) but all of them ship to North America (you'd have to check which ones ship worldwide). 
Any thoughts on concrete jewellery? Let me know in the comments!